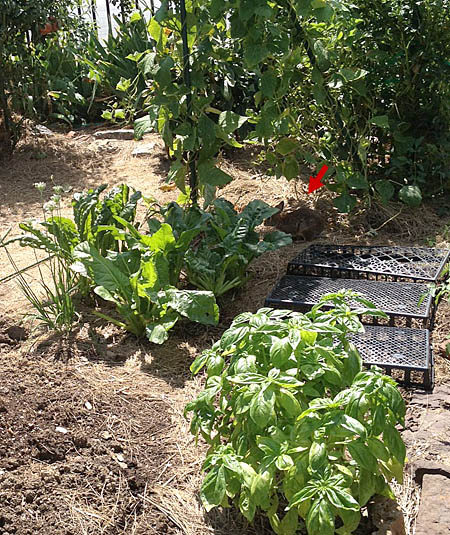 Numerous rabbit sightings have been reported from all parts of the garden this week: Rochelle, Thom, Don S., Carolyn, Barb M. and, most recently, Pauline, who managed to capture our guest in the above photo.
Pro- and Anti-Rabbit coalitions are rapidly developing among our gardeners, so it might be time to ask if you or anyone you know would be interested in adopting. As all who have had the pleasure of seeing him/her will attest, our rabbit is young, charming, small (less than 1 ft. from the tip of his long ears to his little cotton tail), and may have been someone's pet because he/she does not appear to be unduly startled by humans.
If you are interested, please email the garden.
Carolyn, who once had a pet rabbit, cautions that your home should be "rabbit ready" before you consider adoption. A rabbit's front teeth grow continuously so they need to continuously chew — furniture, electrical wires, books, electronic equipment, musical instruments…however, the good news is that they can be easily trained to use a litter box.
UPDATE (8/29/2012): Linda Witt suggests we hold a naming contest for our rabbit. She starts it out by suggesting "Munchie" as her entry.
UPDATE (8/30/2012): Sharron Cohen, our honorary blogger on BugBlog and insect photographer extraordinaire, has not one but four entries: Hare Trigger, Hare Today, Hare E. Krishna, and Broccoli Rabe(it)…
UPDATE (8/31/2012): Barbara McKenzie is toying with Monsieur /Mademoiselle Lapin, but her friend Jeff, who watched a lot of Bugs Bunny cartoons in his youth, prefers Meister Hasenpfeffer.